Royal Canin Adult Digest Sensitive jest zalecana dla wszystkich wrażliwych dorosłych kotów
Firma Roayl Canin przygotowując specjalistyczne karmy dla kotów dba o to, by ich skład był odpowiedni do ich wieku, fizjologii, rasy, trybu życia oraz cech indywidualnych. Branie pod uwagę wszystkich tych czynników jest niezbędne podczas tworzenia doskonale zbilansowanego pokarmu. To samo tyczy się procesu przygotowywania żywności dla kotów po zabiegu kastracji.
Royal Canin Digest Sensitive: dla wrażliwych kotów, soczyste kawałeczki w pysznym sosie, zdrowe karmienie w saszetkach, z formułą ONP (wyważona ilość składników budulcowych)
Royal Canin Adult to idealna karma dla kotów od 1. roku życia:
Specyficzna formuła ONP (optymalna ilość składników budulcowych) zapewnia wysoką i długotrwałą akceptację karmy u dorosłych kotów. Bo najlepszy pokarm niczemu nie służy, jeżeli kot nie chce go jeść.
Dorosłe koty, w szczególności te wykastrowane, są narażone na powstawanie kamieni moczowych. Royal Canin Instinctive z Healthy Urinary System wspiera prawidłowe funcjonowanie systemu moczowego, dzięki redukcji koncentracji minerałów, które mogą prowadzić do powstawania kamieni moczowych.
Zdrowe odżywianie karmą Royal Canin Instinctive zapewnia kotom wszystkie niezbędne składniki budulcowe, gwarantujące zdrowie i witalność.
Wysoka zawartość podstawowych kwasów tłuszczowych zapewnia zdrowie a umiarkowana ilość kalorii pomaga zachować idealną wagę.
Royal Canin Instinctive to mokra karma w postaci soczystych kawałeczków w pysznym sosie.. Porcjonowane saszetki o wspaniałym smaku zachowują wysoką ilość składników budulcowych. Poza tym są niezwykle łatwe do otwierania.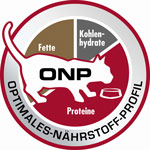 Instynktowna preferencja – optymalna ilość składników budulcowych: nowe zdrowe karmienie z formułą ONP dopasowuje się do każdego momentu życia i specjalnych potrzeb kota. ONP to optymalna ilość energii dostarczana przez różnego rodzaju substancje odżywcze. To optymalna ilość białek, tłuszczy i węglowodanów zapewniająca wysoką akceptację pokarmu. Specjalnie wyważona ilość składników budulcowych zmienia się wraz z wiekiem kota, ale także z jego fizjologicznym stanem (ciąża, okres karmienia).

Kot potrafi rozpoznać i wybrać takie pożywienie, które najlepiej odpowiada jego zapotrzebowaniu na składniki odżywcze. Formuła ONP przyczynia się do niezwykłej, długoletniej, wysokiej akceptacji tej karmy. Koty nigdy nie będą miały dość produktów Feline Health Nutrition firmy Royal Canin! Dlatego nie trzeba zmieniać smaków karmy, ponieważ smak karmy nie ma dla kotów zbyt dużego znaczenia. Już 48 godzin po wykonaniu zabiegu kastracji spożycie żywności u Twojego kota wzrasta o 20%. W tym samym czasie zapotrzebowanie na substancje energetyczne maleje o 30%. Zredukowana ilość węglowodanów prowadzi do szybkiego wzrostu poziomu cukru we krwi, a tym samym zapobiega przedwczesnemu uczuciu głodu. Kamienie nerkowe pojawiają się zwłaszcza u kotów z nadwagą, które piją zdecydowanie mniej wody niż powinny. W efekcie oddają one mniej moczu, a szkodliwe substancje odkładają się w organizmie powodując powstawanie kamieni. Dzięki wyważonej proporcji minerałów wartość pH w moczu zostaje utrzymana na możliwie niskim poziomie, co zapewnia zdrowie układu moczowego.